Recently, Hongdian Z2 V20 5G RedCap Industrial intelligent Gateway took the lead in passing a series of strict verification processes of Huawei OpenLab Global Open Laboratory and completed the compatibility test based on Huawei RedCap terminal scenarios. The first HUAWEI COMPATIBLE certificate and its related certification logo were granted by Huawei Cloud Open Labs.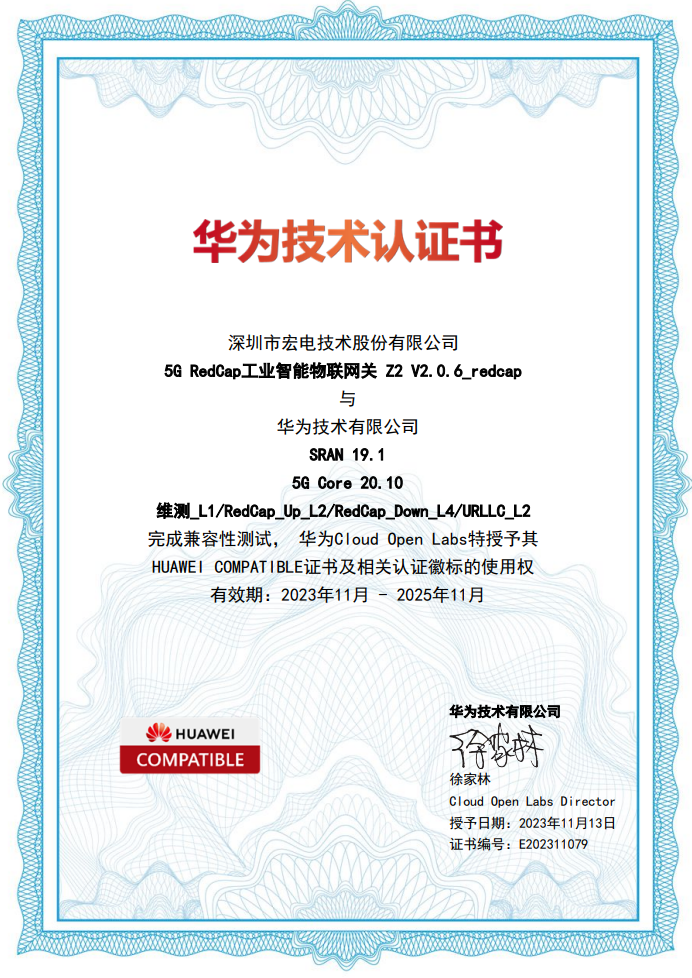 Hongdian 5G RedCap Industrial Intelligent Gateway based on Huawei 5G RedCap wireless network & Huawei 5G Core conducted 5G toB RedCap terminal scene integration test. The basic network performance of 5G RedCap industrial intelligent gateway such as upstream and downstream peak rate, bandwidth, delay, packet loss rate, stability, and enhanced features such as timing, network slicing, and 5G LAN are strictly tested.
The test results show that the performance indicators of Hongdian 5G RedCap industrial intelligent gateway meet the requirements of Huawei OpenLab test standards, and it is fully capable of meeting key application scenarios such as smart factory, park monitoring, data acquisition, and power distribution network. For example, in the smart factory, it not only supports the number of equipment in the factory, multi-online industrial control equipment, PLC data return, SCADA system application, but also supports multiple scenarios such as real-time car scheduling and location monitoring in the park.
The 5G RedCap industrial intelligent gateway has successively passed the test and certification of three authoritative laboratories in the industry, which fully shows the strong research and development strength of the company and the high compatibility and openness of the products. The 5G RedCap industrial intelligent gateway greatly saves the deployment cost and simplifies the network architecture. In the future, Hongdian will also actively promote the application of 5G RedCap, accelerate the maturity of 5G lightweight industry, and help RedCap terminals enter a new era of scale and volume.